D3BASE JUNIOR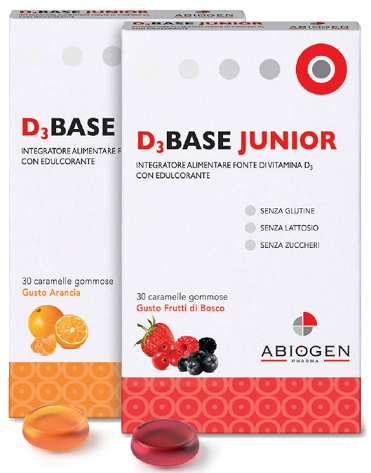 ---
What D3Base Junior is
D3Base Junior is a food supplement source of vitamin D3 (cholecalciferol) in gumdrops with sweetener. Available in the pleasant Orange or Wild Berries flavours.
For whom D3Base Junior is indicated
D3Base Junior is indicated for children above 4 years of age.
How much vitamin D3 does D3Base Junior contain
Each D3Base Junior gumdrop contains 600 I.U. of vitamin D3.
How much D3Base Junior can a child take
It is recommended to take 1 gumdrop daily to chew until it melts. The amount of vitamin D3 contained in each gumdrop (600 I.U.) is equivalent to the recommendations of the Nutrient Reference Intake Levels (LARN) on daily basis, established by the Italian Society of Human Nutrition (SINU)1.
How many gumdrops does a box of D3Base Junior contain
A box of D3Base Junior contains 30 gumdrops which are able to satisfy the nutritional supplementation requirements of a child for 30 days.
Why D3Base Junior is important as a supplement
D3Base Junior is suitable to supplement the nutritional requirements of vitamin D3 of the child when its daily needs are not met. Vitamin D3 is formed almost exclusively by exposure of the skin to sunlight. Food contains limited quantities and it is therefore highly unlikely that it will be able to cover its needs through dietary alone 2.
How vitamin D is needed for growth and bone development.
Vitamin D plays an important role during the processes of bone mineralization, promoting the absorption of calcium and phosphorus at the intestinal level.A normal and physiological state of vitamin D is therefore necessary in order to promote the normal processes of bone mass acquisition that take place during the developmental age, until the peak of bone mass can be considered as the highest level of bone mass achievable during life as a result of normal growth2.
The bones together with the joints and muscles are part of the musculoskeletal apparatus. Muscle is the main mechanical stimulus for the growth and development of bone tissue because the load and tension exerted by muscle mass on the bone influence its strength and endurance and promote the processes of acquiring bone mass2.
How does D3Base Junior contribute to the normal function of the immune system
Vitamin D plays an important role in the physiological modulation of the immune system and therefore in the response against external agents. The immunomodulating activity is demonstrated by the presence of receptors able to bind vitamin D on numerous cells of the immune system. Vitamin D stimulates the production of powerful endogenous compounds able to defend the body and helps the regulation of important physiological functions related to the proper operation of the immune system2,3.
NUTRITIONAL INFORMATION

AVERAGE CONTENTS

For 100 g

For gumdrop (2 g)

% NRV*

Energy

191 Kcal

3.8 Kcal

797KJ

15.9 KJ

FAT

0 g

0 g

of which saturates

0 g

0 g

CARBOHYDRATE

72 g

1.4 g

of which sugars

0 g

0 g

of which polyols

72 g

1.4 g

PROTEIN

4.4 g

0.1 g

SALT

0 g

0 g

VITAMIN D3
750

µg (30,000 I.U.)

15

µg (600 I.U.)

300
*NRV = daily nutrient reference value [(UE) Reg. n.1169/2011]
STORAGE
Store below 25°C. Keep in a cool and dry place, away from localized heat sources and sunlight. The date of minimum durability refers to the product unopened and properly stored.
WARNINGS
Food supplements should not be used as a substitute for a varied and balanced diet and a healthy lifestyle. Keep out of reach of children under 3 years of age. Do not exceed the recommended daily dose. Excessive consumption may produce laxative effects.
D3BASE JUNIOR IS GLUTEN, LACTOSE AND SUGAR FREE
1.Italian Society of Human Nutrition (SINU). Nutrient Reference Intake Levels and energy for the Italian population (LARN): IV Revision. SICS Editor. 2014;
2. Italian Society of Preventive and Social Paediatrics. Consensus Vitamin D in Paediatric age. Preventive & Social Paediatrics 2015;
3. Gatti D et al. Minerva Med 2016; 107:452-460