D3BASE JUNIOR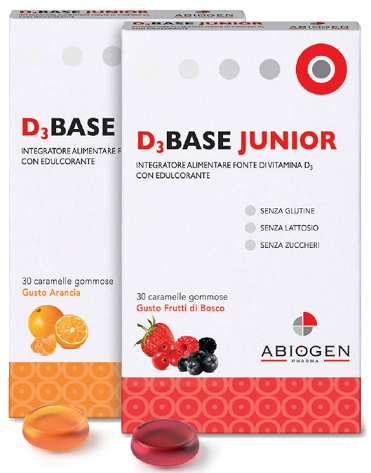 ---
What is D3Base Junior
D3Base Junior is a Vitamin D3 (cholecalciferol) food supplement presented in sweetening gummy candies.
For whom D3Base Junior is indicated
D3Base Junior is indicated in children aged 4 years of.
How much vitamin d3 is in D3Base Junior
Any D3Base Junior gummy candy includes 600 U.I. of vitamin D3.
How much D3Base Junior can a child take
We suggest to take 1 daily gummy candy to chew until it melts. The quantity of vitamin D3 in any candy (600 U.I.) is equal to Livelli di Assunzione di Riferimento di Nutrienti (LARN– Nutrient Intake Reference Level) recommendations on daily basis, established by Società Italiana di Nutrizione Umana (SINU – Human Nutrition Italian Society)1.
How many gummy candies are in a D3Base Junior pack
One D3Base Junior pack includes 30 gummy candies capable to satisfy child nutritional needs for 30 days.
Why is D3Base Junior supplementation important
D3Base Junior is appropriate to integrate child vitamin D3 nutritional needs when daily requirement is not granted. Vitamin D3 is almost exclusively produced by skin exposure to sunlight. In fact food contains limited amount and it is therefore highly implausible to cover the need through the ordinary diet.
How D3Base Junior contributes to preserve healthy bones
Vitamina d performs a crucial role in bone mineralization process regulation promoting intestinal calcium and phosphorus uptake. Vitamin D status optimization is consequently essential in order to promote bone mass acquisition processes during the growth stage, until the accomplishment of bone mass peak, which may be considered the most elevated in terms of bone mass achievable in the lifetime, as a result of a regular growth2.
How D3Base Junior contributes to preserve normal muscle function
Vitamin D stimulates muscle tissue development contributing to calcium intracellular levels regulation, to differentiation and composition of contractile muscle proteins. Muscles represent main mechanic impulse for growth and bone tissues development, as load and tension exerted by muscle mass on bone influence strength and resistance and promote bone mass acquisition processes.
Which way D3Base Junior contributes to the immune system normal function
Vitamin D acts an important role in the immune system modulation and therein in response against infections. Immunoregulatory activity of vitamin D is proven by the presence of vitamin D receptors on the surface of several immune system cells and by the capability of stimulating production of antimicrobial compounds capable to defend the body from general infections.
NUTRITION INFORMATIONS

AVERAGE CONTAINT

For 100 g

For gummy candy (2 g)

NDRV* (%)

Energetic Value

191 Kcal

3,8 Kcal

797 KJ

15,9 KJ

FATS

0 g

0 g

saturated

0 g

0 g

CARBOHYDRATED

72 g

1,4 g

sugars

0 g

0 g

polyoils

72 g

1,4 g

PROTEINS

4,4 g

0,1 g

SALT

0 g

0 g

VITAMIN D

3

750 μg (30.000 U.I.)

15 μg (600 U.I.)

300
*NDRV = Nutritional Daily Reference Value [Reg. (UE) n. 1169/2011]


STORAGE CONDITIONS
Store at a temperature not higher than 25°C. Keep away from direct light or exposure to heat. The expiration date on the stick packs refers to the unopened stick pack stored appropriately without tampering.
WARNINGS: Food supplements are not intended as a substitute for a varied and balanced diet and a healthy lifestyle. Keep out of reach of children under 3 years. Do not exceed the recommended daily dose. An excessive consumption may have laxative effects.
D3BASE JUNIOR DOES NOT CONTAIN GLUTEN, SUGAR OR LACTOSE.
References:
1. Società Italiana di Nutrizione Umana (SINU). Livelli di Assunzione di Riferimento di Nutrienti ed energia per la popolazione italiana (LARN); IV Revisione. SICS Editore, 2014
2. Società Italiana di Pediatria Preventiva e Sociale. Consensus Vitamina D in età pediatrica. Pediatria Preventiva & Sociale 2015;3(Suppl 3):142-258