Abiogen Pharma Product
The site located on the outskirts of Pisa in Ospedaletto is spread along an area of 120.000 m2 and a covered area of 26.000 m2.
The premises were designed to align Abiogen Pharma Manufacturing to the state of the art in European pharmaceutical production and pharmaceutical development.
The flows of materials and personnel meet the strict requirements of the G.M.P (Good Manufacturing Practices) in Europe.
Particular attention was paid to the environmental impact of an industrial plant of such dimensions, equipped with its own electrical generator powered by methane, which through the co-generation plant, permits the simultaneous and constant production of hot and cold water, saving both energy and reducing toxic emissions.
Two artificial lakes, built to avoid the use of tap water, secure the cooling of the industrial plants and irrigation of the green areas. Extreme attention was paid to structure rationalization with particular care of the production flows.
The layout of the site was designed according to the concept of dedicated units per single formulation, each equipped with one or more independent HVAC systems and dedicated entrances for the personnel and materials.
The units are spread across three main paths, consisting of two external corridors for the transfer of personnel and a central corridor for the movement of materials.
The entire production activity is continuously monitored through an Emerson computerized system that can detect, and, if necessary, restore in real-time all key parameters of the production equipment through digital sensors and optic transmissions.
This layout is considered to be at today's cutting edge of new pharmaceutical plant construction.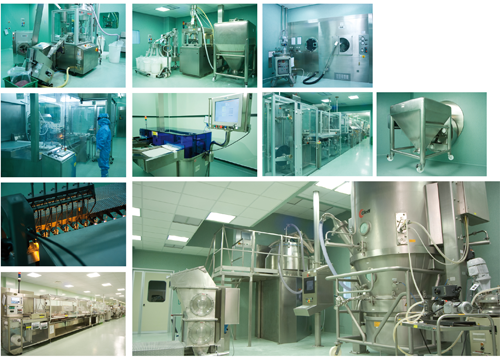 Aree industriali della Divisione Manufacturing
| | |
| --- | --- |
| Total plant surface | 120.000 mq. |
| Roofed surface | 26.000 mq. |
| Raw materials warehouse | 3.400 mq. |
| Finished product warehouse | 3.000 mq. |
| Pharmaceutical manufacturing | 10.000 mq. |
| Pharmaceutical development | 1.080 mq. |
| Quality control laboratories | 1.080 mq. |
| Services and Utilities | 2.000 mq. |
| Offices | 5.400 mq. |